Discography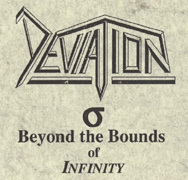 Beyond the Bounds of Infinity (1992)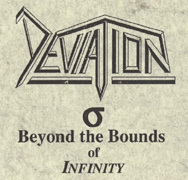 Members
Tom Gebauer – Percussion
Matt Rainville – Guitar
Todd Smith – Guitar
Jason Verenini – Vocals
Produced by: Deviation with Nino Minissale
Engineered by: Nino Minissale
All tracks recorded and mastered at:
New Music Sound Studios, Albany NY
Sleeve design by: Heidii at Desktop Design
Deviation logo design by: Matt Ricket
Recorded: December 1991
Released: February 9, 1992
"Beyond the bounds..." whoa. That's heavy, if you think about it. There is so much more to this project than any conscious entity could possibly recognize if just one listen. It's not so much the music itself, it's more whom the music is performed by that makes "Beyond..." so special. Vocalist Jason Verenini, Matt Rainville (guitar), Todd Smith (guitar), and Tom Gebauer (percussion) illuminate an astounding spiritual and cerebral perception with the musical strength of true, experienced contenders.
The structure, their individual skills, and the basic foundation of the songs may not be that much different from their obvious influences. The overall mood of their work is strictly theirs. It's feisty, artistic, and streaked with vivid imagery. The use of ballsy tempo changes and variations are a welcome revival of the early eighties metal foundation amongst today's much simpler structure. However, it would've been more welcome if they had developed their own distinctive identity.
The recording was done with the "one take per song" method, which could've done them more harm than good, but it was most likely that they might not have had much of a choice. So, what you hear on the tape would more or less be what you would listen to live. The shining track was no doubt "Final Battle," a solid mosh pit shaker that snatches your attention and keeps it with just a slight touch of funk. However, the semi-ballad "What It Takes" get a little monotonous after a while, considering the listener gets so used to Deviation's spontaneity.
The tape could have been done by true craftsmen. And, so true, they are. But when these craftsmen are NO OLDER THAN TEENAGE YEARS... damn it, it's mind blowing. Okay, the vocals are underdeveloped, but that's only because they're probably physically underdeveloped. Once Jason starts using his diaphragm instead of his falsetto, he's gonna be lethal.
It's not a gold seller, but taking the recording method and their ages into consideration, "Beyond the Bounds..." is heart fluttering and just downright unbelievable. If they don't get cocky and they don't take their blessings for granted and keep striving to learn, you'll probably read another review in Rolling Stone.
Efstratia Sable
Rock & Read, Volume III Issue V - March 1992